About Samsung Galaxy S9+
Showing slide {CURRENT_SLIDE} of {TOTAL_SLIDES}
Brilliant in the dark.

The Dual Aperture F2.4/F1.5 lens adjusts to let more light in when needed, allowing you to capture the right amount of light, day or night.

Clear surround sound.

Stereo speakers pro-tuned by AKG bring you clearer and louder sound. Experience surround sound with Dolby Atmos, putting you at the center of the action.

Make a splash with the remarkable water-resistant phone.

With its IP68 rating, the Galaxy S9, S9+ withstands splashes, spills, and rain so it can take a dip, worry-free.

Unlock with a look.

Use both the Iris Scanner and Facial Recognition to open your phone quickly and easily. Intelligent Scan now allow you to unlock your device, even if you're in the dark or in bright light.
eBay has provided more information about this product above and is not affiliated with or endorsed by Samsung.
Price Trends
Samsung Galaxy S9+ - Price New and Used
New Price*
from $410 to $505
Used Price*
from $284 to $369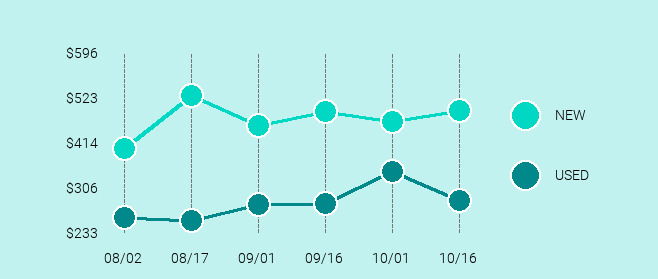 *The average sold price is calculated based on "Buy It Now" items sold within the 90 day period described above (excluding shipping and handling). Each interval represents a 15 day period. There is no guarantee that items will always be listed at a price within the provided range.
Compare Similar Models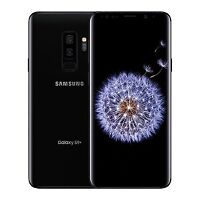 Samsung Galaxy S9+
Display Resolution
1440x2960
Operating System
Android 8.0 Oreo
Camera (Rear/Front)
12+12 dual/8 MP
Dimensions
6.22 x 2.91 x 0.33 inches
Internal Memory
64/128/256 GB
Processor
Octa-core 2.8 GHz
Battery Capacity
Up to 25 hours 3G talk time (3500 mAh)
Showing slide {CURRENT_SLIDE} of {TOTAL_SLIDES}
Top 5 High ratings
Top 2 Low ratings
Samsung Galaxy S9 Plus

Wow! ok, so I've been a devoted iPhone user for many years. Today, I decided to give android a try in buying my first Samsung cell phone. I must say I was a bit overwhelmed when I unboxed and fired the S9 plus up for the first time. I've now been with this phone for all of 24 hours and am having the time of my life setting it up. So so many features like I've never seen before, certainly not on any of my iPhones., So, in this short time with this phone i must say it's a fantastic piece of workmanship. I works flawlessly and the speed at which it operates is unbelievable. Every feature has a purpose and works wonderfully. The fingerprint reader is smooth and extremely fast. I haven't yet set up the retina scan or face recognition, but intend on getting to it soon. The camera is nothing short of amazing. Its shoots regular as well as portraits that are of a quality of a DSLR. The video camera is additionally crazy good. From regular all the way up to 4k. There is nothing that this camera / video camera can't handle., I could go on and on about this phone and its quality. Its feature rich to say the least., Watching a movie on this phone is a genuine pleasure. Hope this helps., Now, go and give one a test run.

Verified purchase: Yes

Galaxy S9 Plus

Product itself came on time infact 3 days before promised date. The phone and ear phones are very good. The charging adapter fits loose on the wall side. After 2 to 3 weeks use i am finding that during browsing, suddenly the web page vanishes with error message Aw, Snap. Now a days this started happening very often, I do not know if this is phone bug or not, I had never seen such error message in other phones. If it is network problem, it can hang but why already displayed page going blank, annoying at times. Again I do not know if thid is anything to do with settings of the phone or if so.e bug may be fixed in future, I do not know. All other aspects I feel fantastic with this phone. And the phone itself is just too good size, lovely to watch videos as well. Thanks Ram

Verified purchase: Yes

LOVE this phone

Very pleased and impressed with this phone. I love it, pure and simple. The screen is nice and large, yet the device is slim enough to fit easily in a middling-to-deep pocket. In hand it feels like it's all one piece - the construction is that seamless. And, hey, it's got the looks., , But what's inside matters more, and functionally this phone leaves little room for complaint. The Android 8 OS is fast and well-implemented with plenty of RAM to drive it, and that big, beautiful OLED screen is rich and responsive. This is the first phone I've owned that I thought fully merited the smart label. I haven't run into a single glitch in the three weeks I've owned mine, and I've used it for hours every day. Battery life is great; menus are simple; apps and features are practical and intuitive; and customization is a snap., , Both the front and rear cameras are super. Selfies contain plenty of detail, and I like having the wide angle and optical zoom versatility of the two rear cameras. Low-light capability is incredible for the sensor size, and images are free of motion-blur in all but the worst lighting. 4K videos are also impressive, and built-in stabilization works well. Video playback is top-notch, thanks to the gorgeous 6.2-inch display., , Call clarity and volume are excellent., , Bluetooth setup is a snap; connected to my headphones or speakers, media sound is impressive and readily customized., , If I were to deduct a star from my rating, which I'm not, it would be for the following reasons., , a) Depending on the country where the phone is manufactured, the international version may have European English spelling and date formats rather the standard US ones. This can't be changed in settings. However, one of the updates that installed after I initialized my phone added the option for a US English on-screen keyboard. Thanks to that, auto-correct doesn't constantly change everything I type from the US spelling. Also, if you choose to show it on the home or lock screen, the date appears with the day before the month and year. Not an issue for me, but everyone is different, so I'm pointing it out., , b) With the international version, there's no US warranty. However, you can purchase independent coverage and also register your phone at the website for its country of origin., , c) It's slippery. The phone is entirely clad in glass. While it rocks the looks, this also makes the phone way easy to drop. And you know what happens when glass hits a hard surface. A good case is necessary, but with one installed, the phone loses some of its aesthetic appeal. Also, to avoid interference with the phone's edge function, any case or portfolio on the market will have low rims along the sides - not enough coverage or cushion for real protection. For that you'll need a screen protector., , Speaking of which, there are many buyers complaining about both the film and tempered-glass screen shields available for this phone. Myself included. I purchased three other screens before stumbling onto one that doesn't pop off or interfere with touch response. The screen is expensive, and installation involves a tedious application of liquid adhesive. It's in a class by itself, though, and definitely worth the cost. Just search a screen protector kit with liquid adhesive and UV lamp., , d) The built-in speakers are kind of wimpy, and with speaker phone enabled, there's some slight fuzziness., , None of these points is enough to detract from the phone's usefulness or desirability. Its current slot as the No. 1 Android phone of 2018 is well-deserved. All in all, a good-looking, feature-rich and user-friendly device that's positively brilliant in operation. I cannot recommend it highly enough.

Verified purchase: Yes

Samsung Galaxy S9 Plus, Not Just A Phone

Galaxy S9 Plus, , Great phone, os Android 8.0, Fast processor Exynos 9810 2.7Gb, 1440 x 2960 pixel screen resolution and 128gb internal storage with 6Mb Ram, And all kinds of internal sensors, Acceleration, Gyroscope, Magnetic Field, Barometer, Proximity, Step counter, Motion, Tilt, Thermistor, Heart rate and more., Low Lux for clear night time pictures, Super Slow-Mo, Hyperlapse and Panorama shots a 12 mega Pixel rear camera that takes up to a 4032x3024 picture and, Ultra High Def video at 3840x2160 (60 frames Per Second), A front camera that does up to 4:3 (8.0Mp) 3264x2448 and QHD Video at 2560x1440, You can even take a picture with voice control., , Audio is real nice with stereo speakers and volume is nice and loud,, Great security features too, you can lock your phone with a password, pin number, Swip pattern, fingerprint, iris and face scan, and you can set it up so when your home or at a trusted place or close to your smart watch you don't need to keep entering your choice of passcode., , And depending on what you do the battery lasts all day for heavy users and alot longer for light users.and it re-charges very fast too!, , What more can I say, it's a great piece of electronics, it's not just a phone anymore, Samsung hit a home run with this one.

Verified purchase: Yes

Good Phone, nice size, like the additional micro SD option.

I like it so far. Some getting used to with new features even though I have had a few Samsung Galaxy. It's fast. The only reason for the 4 star at this time, is that I bought this phone under the "NEW Other" category, and I think the battery goes down a little faster than I expected from a "NEW" phone. It could be my screen illumination level, but I made sure it is at most 50% scale. It goes down 5% in 5+ minutes watching live video. Lot of storage, especially with the micro-SD card that I can insert. Size: just a bit longer than the S6 Edge.

Verified purchase: Yes